Welcome to the Human Performance Mechanic
Where my mission is to help you experience the joy of pain-free movement
Welcome to the Human Performance Mechanic
Where my mission is to help you experience the joy of pain-free movement
Welcome to the Human Performance Mechanic
Where my mission is to help you experience the joy of pain-free movement
Welcome to the Human Performance Mechanic
Where my mission is to help you experience the joy of pain-free movement
Welcome to the Human Performance Mechanic
Where my mission is to help you experience the joy of pain-free movement
Welcome to the Human Performance Mechanic
Where my mission is to help you experience the joy of pain-free movement
Welcome to the Human Performance Mechanic
Where my mission is to help you experience the joy of pain-free movement
Welcome to the Human Performance Mechanic
Where my mission is to help you experience the joy of pain-free movement
Welcome to the Human Performance Mechanic
Where my mission is to help you experience the joy of pain-free movement
Welcome to the Human Performance Mechanic
Where my mission is to help you experience the joy of pain-free movement
Welcome to the Human Performance Mechanic
Where my mission is to help you experience the joy of pain-free movement
Welcome to the Human Performance Mechanic
Where my mission is to help you experience the joy of pain-free movement
About Nicholas Rolnick(PT, MS, CSCS)

Founder/Owner, Performance Enhancement Specialist & Clinical instructor
The human body is a machine. I'm fascinated by its unlimited potential, and its amazing ability to recover from injury.
Machines are most efficient and effective when they are in balance. When a machine is out of balance, it takes a skilled mechanic to diagnose the imbalance and provide the remedy. As a physical therapist, I see myself as the human performance mechanic.
My specialties: McKenzie Therapy (Mechanical Diagnosis and Therapy) and Blood Flow Restriction Training
Read More
On Demand BFR Training Course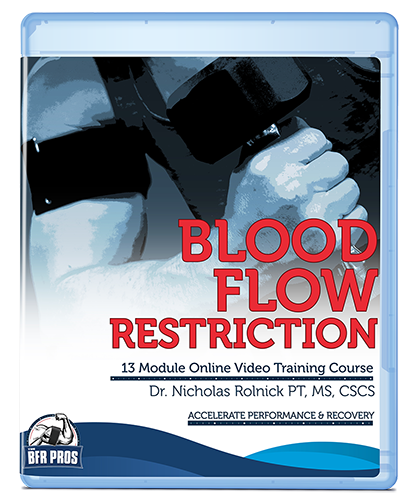 Blood flow restriction can help improve
patient outcomes and scale your business
This engaging and easy to follow course will provide health and performance professionals with the tools and scientific knowledge required to safely prescribe BFR training.
Introducing BFR into your practice will not only benefit your patients, it can also help you to scale your business by offering a new, effective specialization.
This course qualifies for continuing education credits with the following organizations:

We are approved/pending for PT/PTA in most states for 4 hrs of Continuing Education Units
PRE-RECORDED & LIVE BFR WEBINARS
We will have a FREE Pre-Recorded Webinar to introduce the Power Of BFR and how it might benefit you professionally & personally.
We will also have a Live Webinar for the graduates of our On Demand BFR Training Course that will dive deeper into BFR, discuss Case Studies and address questions from our audience.
"Blood Flow Restriction (BFR) Training Is The Next Big Fitness Trend"
Forbes, March 2019
WHAT IS BFR?
Strength Training
It is a activity to improve your muscular fitness by exercising a specific muscle against external resistance.
Mobility
Grow your range of motion, It is all about to move your body normally!
Nutrition planning
Get your personalized nutrition plan and build a healthy meal routine.
MISSION
The Mission of THPM is to help everyone experience the Joy of Pain-Free Movement through world class Physical Therapy & Personal Training.
---
SCHEDULE AN APPOINTMENT WITH ME.
---
Get a free 30′ online consultation